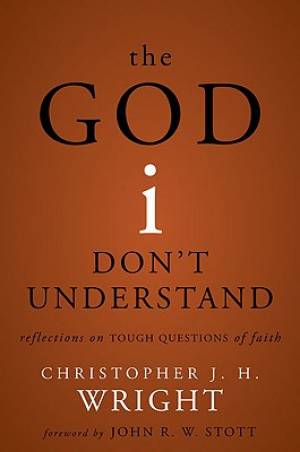 This winter break I have been reading books that interest me versus what has been assigned for class. Don't get me wrong, I love the content of my classes, but sometimes it is refreshing to read something because you want to read something. Perhaps towards the end of the month I will post something about what I have been reading.
But for now I want to mention one book in particular. The book is titled
The God I Don't Understand
by Chris Wright. I have only read the first two chapters; so far so good. Chapter Two (
The Offence of Evil)
is especially timely because of the current crisis in Haiti. Part of this chapter talks specifically about natural disasters.
We all respond to such circumstances differently; likewise, we respond to the news of such circumstances differently. Here are two links which give two very different responses. The first one seeks to quickly mobilize relief funds. The second one tries to provide an answer. Ironically, I found the second link from a twitter page (the person tweeting it was not doing so because he agreed with the person).
Helpful use of media.
Unhelpful use of media.
I will close with one more twitter reference. Pat's attempt at answers pales in comparison to John Piper's response––tears, sorrow, and continued trust in God.
He first wrote, "
Weeping over these pictures from Haiti. http://ow.ly/W7rY"
and then, "When words (almost) fail. I wrote a poem this morning about Jesus in Haiti. http://ow.ly/W7EY."
I think John Piper's response is the more biblical one.